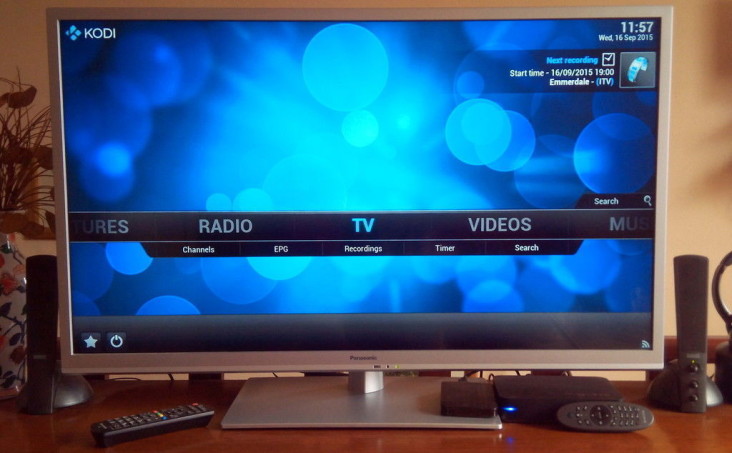 Last week I wrote a short history of media and promised to describe a set-top box you won't find in the shops but which does pretty well everything associated with a TV set; audio, photos, video, live TV and internet. So here it is.
Above is my TV set, underneath which you can see a small box with a blue light in one corner. It's a "Wetek Play", costing about €120, which performs all the functions of a home media centre. Next to it is a USB hard drive on which I store recorded programmes, videos, photos and music, all of which I manage directly on the Play using its remote control or on my PC via my home network.
The device has the following features:
ARM-powered dual-core processor (similar to a mobile phone)
2 x satellite feeds – watch one channel while recording another, or record 2 while replaying a video or music
HDMI out
USB
Wi-fi
Ethernet
Socket for SD card
All of the external connections can be seen in this photo of the back of the unit.
So what can it do?
Wetek Play boxes arrive running Android, but this is not the ideal environment for a set-top box so the best thing is to replace it with something more suitable. OpenELEC (Open Embedded Linux Entertainment Center) is a free operating system that looks after all the hardware, and Kodi is the software that provides the interface you see in the photos above and below. Both of these are freely downloadable from the Internet and are easily installed on the device. This all takes less than an hour, after which you have a fully-equipped home media and entertainment system.
The Kodi home screen you see at the top of the page has a number of tabs in a bar that slides left and right when you press the left or right buttons on its remote controller. Each tab gives you access of one of its main features. Pictures and Music let you browse your photo library or play music files on the hard drive. Videos lets you browse and play any video on your drive, Radio lets you play live radio channels and TV takes you to the tuner module, where you can view the Electronic Program Guide, play and record live TV or catch up on programmes you've recorded. It's all very intuitive and easy to use; I've never seen a manual nor missed it. In any case there are many web pages and YouTube videos showing you how to do things with Kodi.
For the TV features to work a certain amount of setting up is needed, and most of this is done from your PC. The Wetek Play box connects to your home router via a cable or by WiFi and runs a small web server you connect to using your computer's browser. You have to tell the box about the satellite you are using; it can handle any one that delivers a signal. So you might tell it you're using (for example) Astra 2 for Sky UK on the first port and Hotbird for continental programmes on the second. Then you choose which of the available channels to include in your set of preferences, and these appear immediately on a screen looking like this.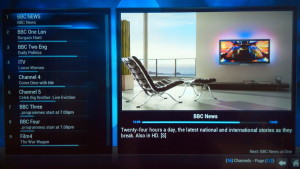 Other goodies
There are so many features available it would be impossible to cover more than a small fraction here. These include a full programme guide and the ability to record programmes now or on a timed schedule. On your PC you can set up complex recording schedules such as all episodes of a given programme. All recordings go to the attached hard drive (mine is 2TB). Kodi has a System tab that lets you browse the filing system and copy files to and from a USB key in a form you can play on your PC, tablet or phone with no licensing restrictions. It also includes a Windows networking server so you can access it as a regular network drive. Any photos, music or videos on your computer can be copied to the device over the network or via a key.
Then we have the Internet connection. There are hundreds of add-on modules – some useful, some not – available for instant download, all controlled with the remote control and your TV screen. Some of the ones I like best are
YouTube – a fully-featured plugin giving you access to the whole of YouTube.
The Guardian – all the Grauniad's videos.
TED talks.
RAI – all the Italian national TV channels are online and free to air, saving the need for a separate dish.
FilmOn – lets you watch live TV from many places, including subscription channels such as Dave.
So even if you don't have a dish, a Wetek Play box will give you all the UK TV channels via your internet connection.
You may be interested to know that the Kodi software is also available as a free download to run on any PC, whether it's Windows, Mac or Linux. There are also versions for Android and IOS. Of course, if you want to use the TV features you'll need to add a suitable USB decoder dongle. It's a good idea to "try before you buy" by installing Kodi on your PC and trying out some of its features.
Should I get one?
This is a difficult question to answer. Unlike other set-top boxes, setting up a Wetek Play with Kodi isn't just a matter of taking it out of the box and plugging it in. First a new set of operating software must be installed, then you have to spend some time on your PC setting up the satellite tuner(s). None of this is technically difficult but there are quite a lot of steps and it's useful to have someone to ask for help when things don't go as expected. I'm willing to answer questions and even provide direct help to anyone local. I also recommend you download Kodi and try it out on your PC, to see how you get on with it.
Once all the setup work is done Kodi is a superb central heart of a home entertainment system. It's very small and unobtrusive yet performs a huge range of functions at a very low cost, replacing quite a pile of other items. For example, as well as moving my entire photo and audio CD collections to it I've also used my PC to convert all my DVDs into the Matroska format best suited to streaming media and copied them to the hard drive. So whatever form of media I want to see or hear it's all done through my TV set.